Get more Real Estate client referrals now.
Join our national real estate referral network and get
qualified buyer and seller clients in your market.

No fees to sign up
Create a free account to start getting inbound
referral clients in your market.

Referral Fee at Close of Escrow
We collect a 30% referral fee at close of escrow.
You never pay anything up-front.

Get More Clients
Use ReferralCloud to place your outbound referrals
and be top priority for referrals in your market.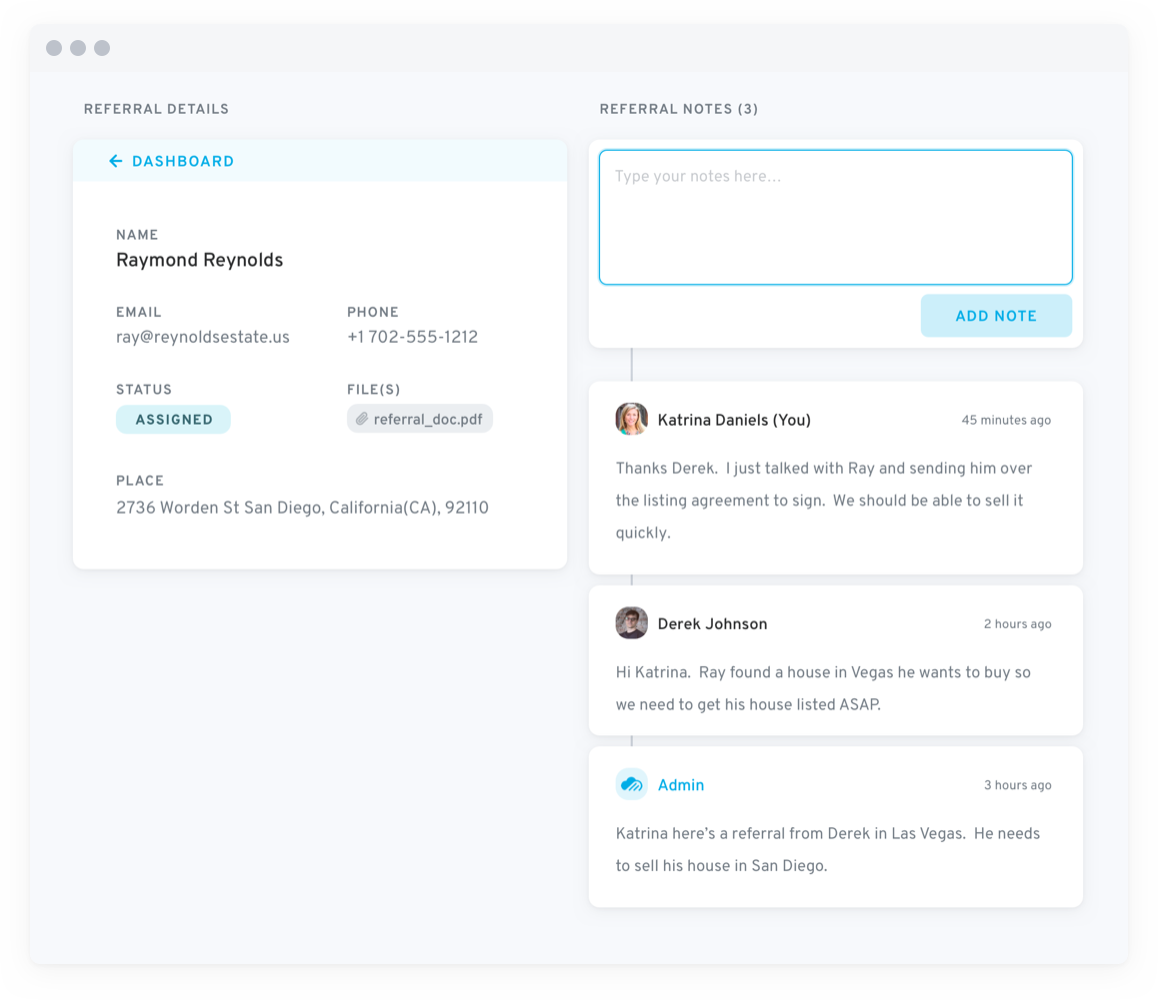 "
ReferralCloud is a national referral coordination service that helps real estate agents get more inbound client referrals and also helps real estate professionals place their outbound referral clients. There are never any up-front fees paid.
OANA MILLER
CEO and Co-Founder, ReferralCloud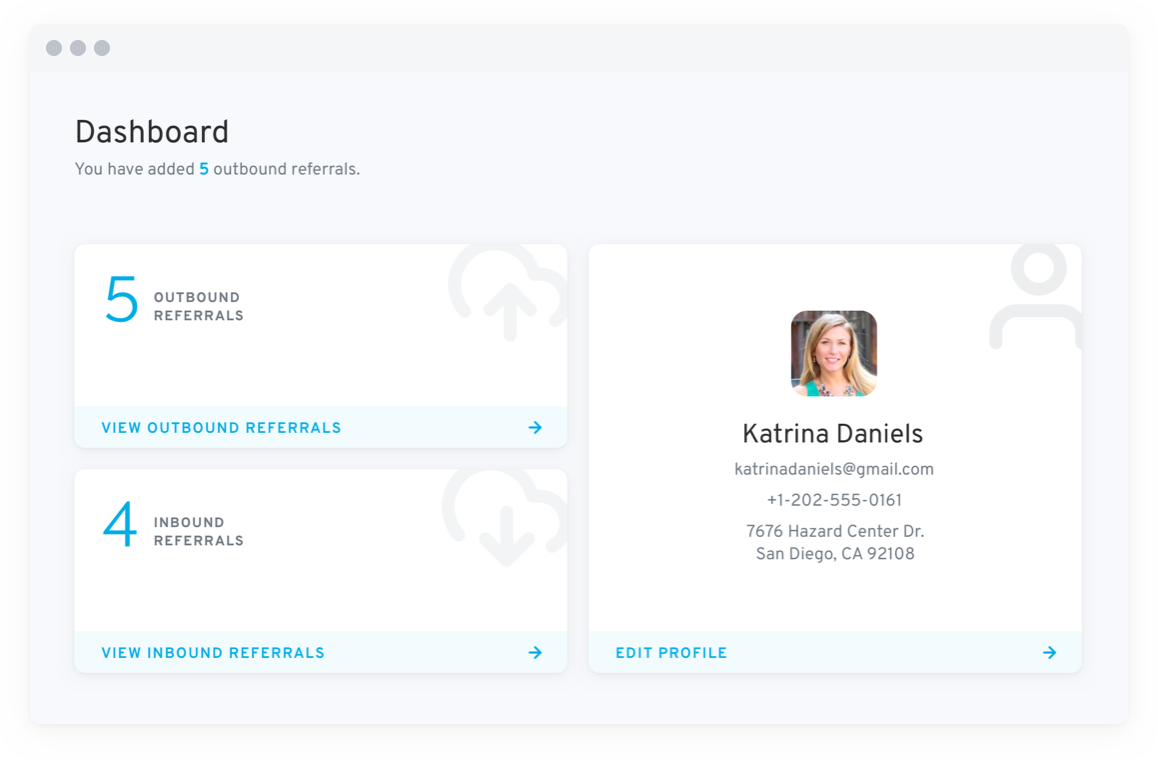 National Referral
Coordination Service.
We select top agents to refer pre-screened clients to.
Free Account
Register for a free account and after a short interview
you will be eligible to receive referral clients in your market.
No Upfront Fees
Never pay anything up front for a client. Just a 30% referral
fee at close of escrow.
Get More Leads
Be top priority for inbound clients by placing your outbound
referral through our service and getting a 25% referral fee
at close of escrow.
Frequently Asked Questions
Is there an upfront fee to be part of the network?

There is No upfront fee to be part of the ReferralCloud agent network.

How does it work?

Agent enters the referral client information in the ReferralCloud portal. ReferralCloud signs a referral agreement with the referring agent. ReferralCloud locates an agent in the referral client's market, signs a referral agreement with the receiving agent, and assigns the referral client to the receiving agent. The receiving agent provides updates regarding the referral client's transaction to the referring agent though the ReferralCloud portal. At closing, the receiving agent pays ReferralCloud a 30% referral fee. ReferralCloud pays the referral agent a 25% referral fee and keeps a transaction fee of 5% for facilitating the referral.

Where do you get your leads/referrals from?

ReferralCloud referral clients come from agent referrals from across the country regardless of company or company size.

Why would I use the service for outbound referrals?

Agents who utilize ReferralCloud are first in line to receive referrals in their market from other ReferralCloud agents.

How long will it take to get a referral after I sign up?

Referral business volume is difficult to predict since ReferralCloud referrals come from ReferralCloud agents. The more agents are using the network, the more robust the referral volume is for everyone in the ReferralCloud network.

What problem does this service solve?

The ReferralCloud service solves the problem that referral agents face when they send out referrals and the receiving agents do not have referrals to send back to them. ReferralCloud gives referring agents the opportunity to receive referrals from any agent in the network that has a referral for their market even if they have not personally sent a referral to that particular agent.

What can I do to increase the likelihood of being assigned a referral client?

ReferralCloud agents increase their likelihood of being assigned a referral client by utilizing the ReferralCloud network for their outbound referrals.

What if I have questions about the service?

You can either email us at support@referralcloud.co or just give us a call at 702-966-4402.
Join Our Referral Network Today
Create a free account to get access to exclusive referral assignments.